An Average Review of "Surf"

Surprise drops are becoming so common now-a-days that we're hardly surprised anymore. You know what's really surprising? Giving away high-quality music for free. Even more surprising when said music is really really good.  That's exactly what Donnie Trumpet and the Social Experiment have done with their debut studio album Surf. The band led by our favorite acid rapper Mr. Chancellor Bennett himself is bringing a new sound and funk to the overplayed turn up singles we endlessly hear on the radio (not that I'm against turning up). 

During a time in music when if your song doesn't have the kids jumping and dancing within the first five seconds you'll kill yourself trying to get someone to play it, The Social Experiment has pumped life into the hip hop community. With messages as hidden and complex as Kendrick's To Pimp A Butterfly paired along with some uplifting production we aren't used to in these auto tune days, the band has managed cement a place for themselves atop the hip-hop charts in probably the most competitive year in the past decade. 

The entire feel of this album makes me imagine listening to it live in some sort of prohibition-era underground jazz club where everyone from Frank Sinatra to the entire cast of Goodfellas would be there getting drunk and enjoying the music. The Social Experiment would be the house band and Chance would MC the entire thing as they're all decked out in matching white tuxedos with black lapels and black bowties (Chance's would probably have white polka dots on it). Every single guest that came out to play would be sent on their way with a standing ovation and best of all at the end of the night everyone gets laid (maybe)(most likely)(hopefully)(fingers crossed). 
Speaking of guests, there were so many features on this album that you didn't even know about because they weren't on the track list. Silly me coming in expecting to listen to Chance for a straight hour only to be surprised with the likes of Busta Rhymes, Big Sean, Erykah Badu, and other unique performers throughout. Even better is the fact that Chance placed a few of these artists in an environment we're not used to seeing them and let them shine. Leave it to one of the youngest kids in hip-hop to kick it old school and have everyone experimenting new flows. I can't wait any longer let's get into the album. 
As soon as the music starts and you begin to hear that trumpet faintly in the background you know you're in for something special. Something that transcends what we consider Hip-Hop music today. It is a miracle to be alive and well. 

Chance joyfully raps about having no money and no problems with wordplay that is off the chart's sounding like a goofy, lighthearted Eminem. Messages so deep you really have no idea what you're listening to until you go through the lyrics with a fine toothcomb.  If you're not into that kind of things you can just relax and enjoy Chance's fun flow as he zig-zags through the beat. This guy is just plain ridiculous and he makes me feel happy to be alive. 

Slip Slide 

featuring B.O.B, BJ The Chicago Kid, Busta Rhymes, Janelle Monáe & The O'My's
This intro music had me fucking hype. I was half expecting Nick Cannon and Petey Pablo to burst out and re-enact the final scene from Drumline. Dammit, now I have to watch Drumline for the 8987th time (Nick Cannon's the funniest man alive daddy). 

All of a sudden the music slows down and the mood does a 360. The laughter that emerged from the background made me break my fucking neck(!) as I realized the Flipmode General was here to drop something like only he knows how. This was all Chance's doing? Good work Mr. Rapper. 
Let's not forget this song is about doing what you love and standing up for yourself. If more artists were to stick to what they love instead of chasing the money and the hits maybe we wouldn't be complaining about the current state of the music industry. Oh well, at least B.O.B. comes in with some crafty lyrics himself proclaiming the story of a stoner who didn't graduate high school but was still able to find success. 
Don't overlook the song outro, which brings us down to earth on this concept of standing up for yourself and reminds you it's going be extremely difficult to fight for what you believe and many times it will seem like giving up is much easier (because it is). 

featuring J.Cole & NoName Gypsy
It's been a full song but our boy Chancellor comes back on the track to give us his take on the heaviest of emotions.  I've never heard of this NoName Gypsy but her voice is beautiful and she can rap her ass off. This message is a little more crafty, I think it says to be careful about jumping into love, but love is a beautiful thing, but it's also a complicated and dark thing. Everyone deserves to love, but can everyone love? I'm cold but I'm still warm enough for love. 

If Chance brings us fresh, simple, and clever world play everyone can enjoy without really understanding the eccentricities then J.Cole does the complete opposite. Jermaine's perfectly controlled delivery allows us to take in what he's saying while being able to appreciate the flow that put it all together. Just a great overall collaboration by these three artists (and let's not forget the beautiful beat in the background).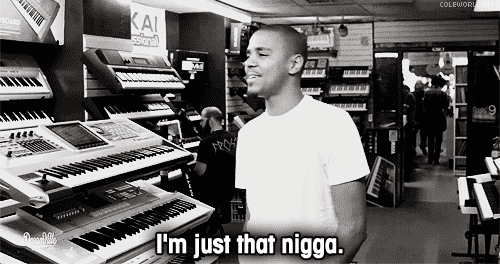 He literally couldn't think of anything to write for this song. Seems pretty appropriate to me as this instrumental fit in perfectly with the rest of the album and we get to enjoy the mastermind Donnie Trumpet's work on its own. Chance knows when to take the spotlight and when to step aside. 

Wanna Be Cool

featuring Big Sean, Jeremih & Kyle
When this song started if you didn't immediately imagine a 30s style diner with girls in red and white pinstripe uniforms riding around on roller blades delivering donuts to Marty McFly then you really need to work on your imagination. This music makes me happy. 

Let's take a moment of silence for every listener whose head exploded when Chance stated that he didn't want to be cool 'I just wanna be me'. Damn, that must be a hard concept for some people to understand the importance of being true to yourself over what others want/expect. Chance is like the hip-hop positive psychologist. 
If you don't agree with my claim that Chance is the hip-hop psychologist just look at what he did to Big Sean. Sean comes with his classic rapid-fire delivery and everyday references all listeners can relate to. Yet, inside of this something is different. We're not hearing the pompous and braggadocios Sean were used to as if Kanye was in the room glaring at him telling him has to talk about his millions, his flow, and how fine his bitch his. 
Instead, Sean is let loose talking about his difficult life growing up and the changes he's endured with fame. It all comes to close as Sean makes the biggest realization of all. The time he spent trying to become what others expected was wasted and he really should've been working on himself. All that in under 50 seconds?
I don't know who the fuck this Kyle dude is in the next verse but he was the perfect selection. (EDIT: 2 years later and I know who Kyle is. He made one of my favorite songs!) I'll just leave you with this. 
featuring Raury & BJ The Chicago Kid
While Chance understands he is a role model to thousands of fans out there he preaches against himself. Urging all listeners not to follow in his footsteps but carve out a path of their own. This is exactly what Chance did early in his career and has earned the respect and love of the hip-hop community far and wide. Far off from the previous optimistic and positive messages found in the beginning of the album this song warns us of the little things that could derail our paths. Chance tells us not to trust him no matter what we do. And as one user on Rap Genius put rather perfectly: 

PS: This is Chance's favorite track from the album. 

Caretaker

Beautiful voice. Beautiful song. DRAM expressing how much he cares for a certain girl despite all the bad choices he's made before with regards to her. Even going so far as to admit he would have to step back if she has a man. But even though she has a man he'll still take care of her. So if he fucks groupies on the side she can also fuck this dude. That's hip hop love for everybody.  

(That paragraph might've been longer than the all lyrics to this song) 
This instrumental had me dancing around in my seat as I waited for the lyrics to start and I was even a little sad when it ended. Realize that I HATE having to wait too long with lame instrumentals before someone starts rapping. 
Chance finally kicks it off with one of those unique flows he crafts specifically for the beat he's working with and never uses again. Talent is overflowing from his pores like a fat man sitting on the beach when it's 100 degrees and there's no shade. Sweating like Will Ferrell in Bedazzled when one of his wishes turns him into a professional basketball player and he basically has the sprinkles on during his post-game interview. You know what I mean like…

Like…
Fuck it. 
Just wait, better things will come. 
featuring King Louie & Quavo
Aw shit, this beat had me bobbing my head immediately. 
The Social Experiment got tropical on this beat with some fine tunes that make me reminisce about sneaking into the music room during elementary school and playing the steel drums the teacher never allowed us to use during class. As sure as death and taxes Chance jumps on the beat and makes this song entirely his before stepping aside for the others. 

If you didn't catch it from the hook the theme of this song is basic bitches that we all are too familiar with. Without being completely neither violent nor misogynistic Chance gets creative when describing what makes these girls a pretty basic hos. In the nicest most Chance way possible our man sings the chorus calling out basic bitches everywhere.
I don't know who the fuck King Louie is but, just like Kyle on
Want to Be Cool
, he comes in and perfectly describes what it feels like to just straight up hate certain girls. 
This girl even ruined the city of love? Man, fuck her.
If you've learned to expect anything from Chance by this point then you weren't surprised to hear Migos shouted out on this song followed by a verse by Quavo. In conjunction with basically everyone on the Internet, I'm pretty surprised he was able to bring the Migos flow and blend it perfectly with a beat that is far from what he's used to.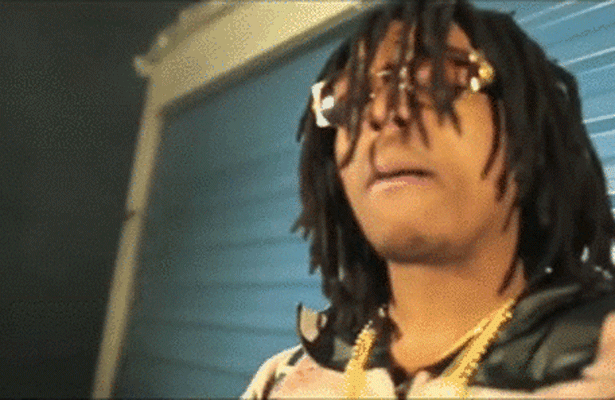 Smthnthlwnt

Damn! Another artist I've never heard of comes in and lays a beautiful ode to his uncle and grandma on another sick Donnie Trumpet beat. Was Chance in this song? I'm not really sure but at this point, everything's blending into a beautiful mix of instruments combined to form a beat similar to what we like to call hip-hop and I can barely tell one track from the next.  
Go

featuring Jesse Boykins III, Mike Golden & Joey Purp
This beat is so funky it makes me think there was some sort of collaboration between Donnie Trumpet and Daft Punk that we can only dream about but will probably never happen. Another collection of rather unknown, at least by me, artists gives us a fine track to add to the Surf album. Centered on the many ways in which relationships end 'Go' cheerfully sings about sad subjects and leaves us dancing till the end. But don't be fooled because as Joey Purp says: 
Why? Why you wouldn't like this song or think some deep shit as you're hearing it is beyond me. Jamila Woods beautifully takes over the beat and has us pondering over some all too familiar questions. 
Go refill your drink and pack your pipe we're gearing up for the grand finale.
Rememory

I really didn't know what to say about this song except that Chance is great, as always, and hearing Erykah Badu's voice at the end made me want to listen to the Fugees album on repeat for days. Chance raps about a sad divorce and is consoled by Ms. Badu at the end as she lets him know there are still great things ahead for the young Rapper.  

PS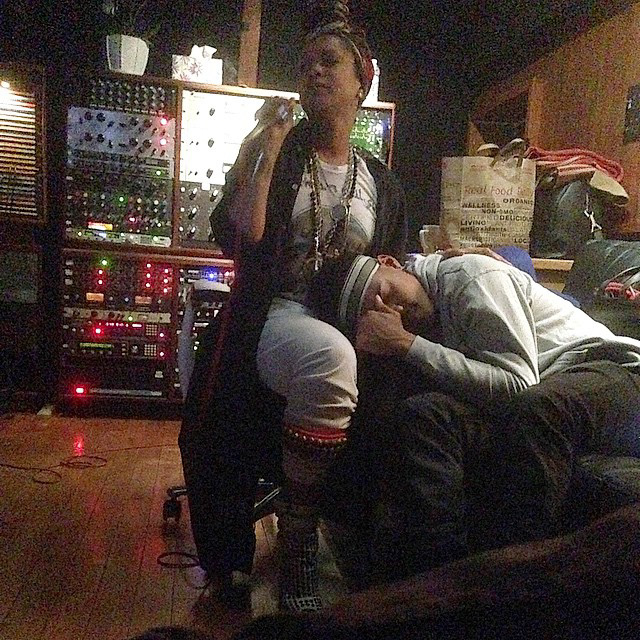 I don't know if you noticed it like I did but that beautiful and distinct Acid Rap Chance flow we haven't heard since Cocoa Butter Kisses came back with a vengeance on this song. The first single off the album has Chance singing praises to his grandmother who he calls the president of his fan club. 

Nothing but love for Chance's grandma here as he ends by telling us he's been away from her too long and must return to church to spend some quality time. 

I'm not religious but this song has me wanting to join the gospel choir. Tip of the hat to you, Chance. 
This video perfectly exemplifies everything I see in my head when I hear this song. Chance where have you been my whole life?
If you don't feel it at first just like the man in the song, don't worry the vibes will be passed on to you. As you listen to this song relax and be thankful for the great music this band was able to create. 
Chance has his fingerprints so wrapped around this entire project that even on songs that he doesn't sing you have to think back and confirm with yourself whether you actually heard him or not. That's how much his style bled through the beats and lyrics of the other featured artists. That's not to take away any credit from the amazing production done by Donnie Trumpet, Nate Fox, and Peter Cottontale. 
Most people, myself included, originally viewed this as a new Chance the Rapper album. Something we've eagerly awaited since he dropped Acid Rap on us over 2 years ago. In his lyrical evolution Chance has begun twisting classic sayings we're all familiar with to fit into his delivery and messages. It's these subtle hints that bring up childhood nostalgia and allow us to make a special connection with this record unlike the majority of new music out there. 
As times has passed we've learned that the creative young lyricist that made me run out and buy cocoa butter moisturizer is more interested in the music he makes than the fame that comes from it. This is something so rare in the music industry today that fans should be thankful that someone out there is thinking about us instead of the checks coming in the mail. 
I don't want to take away anything from this album by writing more and keeping you from hearing it so shout out to the entire Social Experiment and I'll leave with this comment straight from you know where (Rap Genius). 

Here are a few Chance GIFs to let you know how I felt while listening to this.