An Average Review of "If You're Reading This It's Too Late"
I know you're asking yourself what fucking idiot would get such a hideous (beautiful) tattoo. Maybe you're questioning the legitimacy of this picture in general. I think we can all agree that for a moment there even the staunchest of doubters believed someone would tattoo this on themselves (PS not sure if it's a hoax but I believe it). I mean, this is Drake we're talking about, even Madonna hits on this dude. 
The fact that you weren't that surprised when you saw this picture speaks volumes about the type of impact Drake has on the millions of fans who've helped turn him into a superstar. Maybe that's why I decided to write a track by track review of his fourth album/mixtape for fun on my 23rd birthday.
All I know is, no matter how many times I listen to 

If You're Reading This It's Too Late

 I'm still no closer to understanding the entirety of what Aubrey is trying to tell us on this production. For the record, this review won't be what you typically expect to read when discussing a music piece. I'm no musical genius. I don't even have a good ear when it comes to sound. 
I read every review of this album published online and continue to find myself lost with mentions of the musical devices employed and the instruments used

to keep us hooked. That's why you will find no correct mention of these in this book. Instead, my best attempts at describing the way the music sounds to me. Far from being a music critic, I realized I'm just some dude writing a review about a rapper he enjoys listening to. This is a review by a fan for fans. Nothing fancy, just the straight up truth of what I think and what I felt while listening to the music. And what I think it means in the grand scheme of what we like to call the rap game.
Before we get into the album itself, let's talk about what Drake proved before anyone pressed play.
It all began with a tweet of a link at 9:07 AM eastern time on February 12,
2015
 that directed us to a page in the OVO blog with a video titled "Jungle." This 15-minute clip took users on
dreamy tour
through Drake's hometown of Toronto. He posted up in spots he seems to frequent with his crew and introduced the world to a Toronto slang most of us had no idea even existed.
At 12:04 AM February 13,
2015 one tweet almost actually broke the Internet. Another post sans text containing a link and a picture that appeared to be some sort of album artwork. The link took users to the iTunes store page where you could purchase a 17-track album released on Cash Money Records titled If You're Reading This It's Too Late. This was the first review I saw on the iTunes album page. This is why you gotta love the Internet.

The most advanced warning people got for this album was an article where Toronto rapper P Reign mentioned that Drake was ready to drop a new mixtape (no, I didn't know who that guy was either). Maybe you were listening when Toronto Raptors superstar DeMar DeRozan said it would drop in January 2015. Personally, I got really excited and then forgot about it a few days later. For most of us normal humans who work and are too busy to keep up with every new piece of information, this was like a nuclear bomb dropping. Without any marketing or real prior warning Drake was able to drop an album on a Friday and win the #1 Billboard spot three days later. Someone even wrote an article about how he made a million dollars with a single tweet. By using the oldest marketing campaign known to man, word of mouth, with a 21st century twist, word of click, the head of the OVO family put a stranglehold on the music industry. What was originally supposed to be a free mixtape sponsored by Gangsta Grillz turned into Drake fulfilling the terms and agreements of his Cash Money contract. Bring on that Young Money coup (almost 2 years later and we're still waiting for Carter V #FreeWeezy). Enough about what Drake did for his business. Let's talk about the music. 
OH MY GAWD! IM A MUTHAFUCKING LEGEND! If this first song doesn't get you I don't know what will. This is my shit. After I wake up in the morning at 5:42 AM and look at myself in the mirror asking, "Is that me? I hope it is." I walk to the bathroom and piss excellence. Doves pop up from behind my shower curtain fly out the bathroom and down the hallway. The sun starts rising 50 minutes ahead of the rest of the East coast and this song starts blasting through my non-existent wireless Bose speakers so all Miami can hear. The doves that had previously flown out from behind the shower curtain float me to my car that already has the keys in the ignition and this song blasting through my speakers that don't work. This is the theme song to my life.
Is there anything else I have to say about this? This song makes me want to do 90mph on the highway with the top down, eyes closed, and hands in the air screaming I'M A MOTHERFUCKING LEGEND!!!
Take this, for example. I have a friend, who was also a co-worker, who claimed he didn't like music. He straight up said, "I don't like music. I don't find any benefits from it. There's nothing about it that interests me." When this album dropped, I had just totaled my car and was sick of taking the bus every day to and from work. This friend gave me a ride to work every day for two weeks. His car radio was also busted, so we resorted to playing music from my phone. Our drive was only 15 minutes, limiting the number of tracks we could listen to. I liked this song so much I always played it first. I played it so many times it got stuck in his head and he began singing it to himself while walking around at work. You may be asking yourself what's the big deal about this dude getting a song stuck in his head? My friend is a devout Muslim with an 8-inch beard he hasn't shaved in 10 years. Let's just say he was very recognizable as the only Muslim working in a public high school in Miami where the student population is more than 95% African-American.  Bonus, he knew the lyrics extremely well and wasn't scared to sing out loud. That's the Drizzy effect for you. 
If you're paying attention to the lyrics à Who else you know but Drake can turn a hoe into a housewife? 'Nuff said, moving on, next track.
That PARTYNEXTDOOR beat is
🔥 🔥 🔥 🔥
I have no idea what Drake is trying to do with these slick sounding intros, but I like it. This track starts off as a crowd pleaser with the always-quotable line YOU REQUESTED IT SO WE REWIND IT. If you haven't said that in the most similar accent you can muster you're just not enjoying your life to the fullest. Also, the gunshots seem to be taking it a bit too far. We all know Drake isn't about that life (just like I rattled in my boots the first time I held a gun at a shooting range). So, what's he really trying to prove? You know the haters are gonna have their two cents about him trying to act tough (am I included in that?). I'll just take it as some well-placed sound effects that fit perfectly with the intro to the song.
Right away Drake lets us know exactly what he's talking about.  He's got a bunch of people in his life trying to take advantage of him and only using him for personal gains. Who are these people you may ask? Girls, the internet, his family, homies on Canadian probation, two mortgages ($30 million!), rap ninjas, ninjas in general, strippers, ex-girlfriends, and almost anyone you can think of. I want to take a moment here and see whether anyone else thought this was quirky.
Really? I'm not saying that isn't true but is Drake on his way to making Canada look hard? Everyone in the US makes fun of Canadians for being overly nice, having accents, loving hockey, leaving their doors open, and having flappy heads that completely separate at the mouth. Never have we ever thought about our neighbors north of the border as people we should be afraid of. Now we got Drake talking about bad dudes on Canadian vacations? Shit, now we gotta be afraid of guys crossing the bridge illegally and driving around Detroit feeding the homeless while handing out free first aid? This dude Drake is something else. He also dropped enough one-liners to have your Twitter page busy for days.
Drake used the Uber reference but I call dibs on Lyft for when I quit my day job to become a professional rapper. If anyone out there uses it I'll know for a fact they read this blog. Bottom line is, this song is pretty dope. It has great verses, the beat gets you pumped, and you can sing along while trying to relate (I got rent bills, not mortgages). 
This is a radio hit plain and simple. Not because I called it, but because the day after the album came out I heard this song on the radio. Drake's just getting reckless on this beat. The first song was about being the king. The second song is about people trying to take the crown. Third song? Fuck it. Let's let them know how we really do it in the 6. After letting us know how heavy the crown feels Drake shrugs off all insecurities and lays it down. 
This track slides through mention after mention of just what it takes to be on top and how to enjoy it. In classic Drake fashion, we have mentions
of:
the safe house in Calabasas (Right next to Tyga!), living with mom and paying the rent, dumping girls and making them feel like shit (but in a nice way), boxes of free Jordans (How many you ask? How the fuck should Drake know?), your obligatory one per album King of Diamonds reference, some month of the year, and a Nike reference just to keep the endorsements coming.
Drake is really living that life, and what does it mean to live that life? Well, for Drake it means locking yourself up in a condo in the middle of Toronto without talking to anyone for days while you make music the whole world is going to listen to. That's what it all comes down to. While we're off partying, he's making the music we party to. 10 bands? 50 bands? 100 bands? You know Aubrey only has cash for the strip clubs. Everything else is in offshore

accounts. Another one (DJ Khaled voice). Also, could any other rapper get away with saying O-M-G on a track and not get made fun of? The Drizzy factor is once again in full effect. 
Shaky warrrioooorrrrrrr. Another interesting intro and crew member name drop leads us straight into the gem of this album. From Hollywood, FL to Hollywood, CA I promise you there are people in cars, bars, and clubs screaming out RUNNING THROUGH THE SIX WITH MY WOES! Like this: 
Watching that video of Wayne dancing in the club 3 days after the album came out tells you everything you need to know about the impact of this song. What's Weezy thinking at that moment? I don't know, maybe it's the money he's going to make after leaving Cash Money. Maybe it's the fact he had a once in a lifetime discovery when he signed Drake. Maybe he's just faded as fuck. Whatever you want to say, the song is a hit. In case you were wondering, WOES stands for Working on Excellence. The name was given to Drake and his crew by OVO member Devontée.
Apart from the obvious catchy hook, this song's verses also provide a lot to talk about. Throughout it, Drake is talking about tough decisions, like whether to get a Ferrari or a Bugatti. Letting people know he's so rich he doesn't have to rock diamonds anymore. Or, mentioning a bunch of random shit that people have no idea what it means but they know fits the rhyme scheme and sounds dope. Does anyone know what the fuck Girbaud jeans are? At first, I thought he was saying Jabo Jeans, then I looked up the lyrics to make sure. All I can tell you for sure is that Google searches and sales for Girbaud jeans probably went up 300% after February 13, 2015.
Doing it like only Drake knows how he mentions how he comes from a time when things were simpler and proceeds to drop references every age group listening to this album can relate to.
I used to bump College Dropout in the car before and after school with my mom. After a while, we listened to it so much, because it was the only rap she could tolerate, that she would get angry if I didn't play Kanye. Those are the kinds of nostalgic trips Drake's lyrics send us on. This is what allows us to connect to this entertainer who is living a life 99% of us will only ever dream about. Then he reminds everyone he's still in the loop with the state of things by mentioning hashtags.
Why is Drake hoping for envelopes in the mail containing checks? Is it because Birdman still owes him

Thank Me Later

money? Are the police really coming around to ask him for information about the streets? I guess that's how hard the streets of Toronto are. He reminds us that despite only releasing a handful of songs in 2014 he still had, and has, everyone, going up in the club on a TUESDAAAY!
Back to the track, this song has Drake in the same mind state as the last two tracks. Bragging to everybody about how much he's got while still letting us now it ain't easy being the king. He stays up all night worrying about random shit, it's like he doesn't believe he's actually made it. Will I get it all? Don't you have it already? At this point his life has gotten so big there's really no telling what could happen from one moment to the next. All we know is that this is not the same Drake we learned about 4 years ago. I think that's pretty obvious by now.
This is definitely a slow-strip-club-cigar-in-one-hand-glass-of-Henny-in-the-other-while-swaying-back-and-forth type of song. This is where Drake really lets us know why he's probably the most versatile hip-hop artist we have out there today. Is he glorifying strippers again? Nope. Instead, he's just calling out a girl he sees a lot of potential in and telling her he believes in her. Come on baby, you can jump, I promise Drake will catch you. That's my Drake imitation of him speaking in the third person. He probably does that to girls. Great song.
This song has a completely different sound and feel compared to the rest of the album. In my opinion, it's because this song doesn't actually belong to this project. I think this was originally supposed to be part of Views From The 6 but instead Drake included it in this "mixtape" because it was already so popular (and it had leaked). Drake is definitely on his worst behavior throughout this one.

SORRY TYGA! (Damn, how many times can I say that?)
In case you were wondering "RRR TING" is a common Toronto slang term. Don't ask me what the fuck that means, but that's what it is. Drake comes through on his most Toronto, hardest, meanest, fastest flow on this one. He has to. It's not even a classic single. It's a really long verse with some awesome punch lines and things fans can scream out through the middle. Hide yo kids, hide yo wife, the 6 God is coming to the town.
It seems like with this Lil' Wayne intro Drake channeled his inner Weezy and let a few bullets fly.
Drake is living that life we only see in movies and he continues to rub it in our faces. Texts from a centerfold he doesn't reply to but has read receipts on? Shiiiit. I almost jizz my pants anytime I get 30+ likes on an Instagram picture and this dude is ignoring girls I fall asleep dreaming about. Not only that, I hope by this point you've noticed how Drake has mastered the art of having one track actually be two songs. At 1:30 there's a short interlude and the beat change basically turns into a new song. Throughout this album, and all Drake's albums for that matter, there are several songs that completely switch the beat and flow halfway through. While this "mixtape" is 17 tracks, in reality, we're treated to about 25 different beats and flows.  This song was hot. Let's just move on to the next one before my head explodes.

Oh, shit! He really got me with this one. Let me just put up this text conversation I had with a friend to explain how I feel.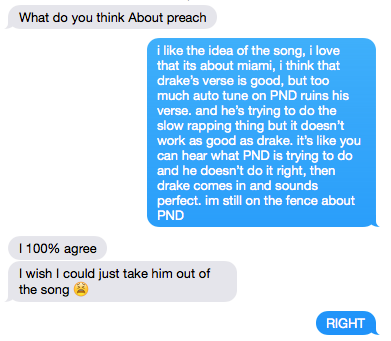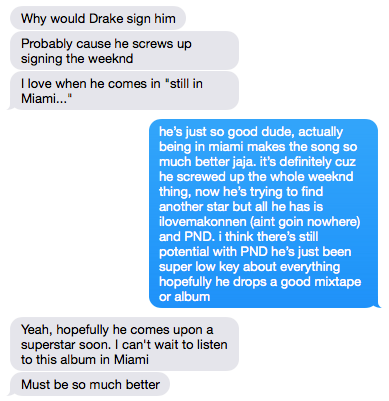 (For the record, I was completely wrong about PND. The man is a genius and I love his music. Lots of things change in 2 years.
)
Wednesday Night Interlude
Drake:
Yo PND you want to have another spotlight on the mixtape after your song for no apparent reason?
PARTYNEXTDOOR:
Yeah that sounds awesome, thanks, Aubrey.
iLoveMakonnen:
What about me?
Drizzy: 
SHUT UP AND GET BACK IN YOUR CAGE FATTY. Oh, my god, I'm so sorry Makonnen I didn't mean to hurt your feelings are you okay? Okay, no, no crying. It's all gonna be okay. Now go back to your cage and write 50 new hooks like I told you. I promise you'll put out an album soon.
Shout out to that Riff Raff intro. If you haven't heard his album you need to check it out. Behind the cornrows, unnecessary tattoos, and blue colored dogs, Riff Raff is a pretty talented rapper. Have you noticed we've now mentioned 2pac and Riff Raff in the same article? Only Drake could make this happen. If there were a hip-hop movie a la Love&Basketball Drake would definitely play Rap Jesus (Jesus was Jewish!). His flow is as smooth as Ray Allen's jump shot.
What about this song? Oh, right, another opportunity for Drake to tell the listening public that he knows exactly where he stands in the rap game. Three number one albums weren't good enough for everybody? Everyone already forgot? Well, Drake hasn't forgotten that you have forgotten (Does that make sense?) and he's not going to let himself slip from your thoughts any time soon. It's like when Jordan took a few years off to play baseball because he felt he had accomplished everything he could in the NBA. 
Well, it's like Drake is pretty much calling out everyone for trying to say he's been quiet because he hasn't dropped an album. I guess countless hit singles that play for months on the radio aren't enough for people these days. But, unlike Jordan, Drake isn't going to take a few years off to go play another sport. He's skipping the time off and going for the six-straight titles. The rap game has been put on notice, and us fans have a surprise waiting. Don't forget that classic Weezy on the track. He knows he has to spit his best whenever he's with Drake.
This is my second favorite song on this album. It's just a spit-dumb-flow-and-kill-the-punch-lines kind of track. I mean, if he reps the Raptors, he HAS to make a song about Lou Williams having two girlfriends. I can imagine him sitting in the studio talking shit with his crew when someone said, "Yo, Lou Will really killing it with those two girls right?" Blam! Idea for a hit song!
Listen for that outro. The real question here is what is Drake trying to say by claiming he took the blue pill? As we know from The Matrix when Neo is offered the two pills he… aaaa fuck it, watch the video.
Why would Drake take the blue pill? Why does he want his story to end? There is no going down the rabbit hole? Or, is Drake trying to tell us that his life is so fucking sweet he'd rather just take the blue pill and wake up in his excessively mortgaged mansion with two Victoria's Secret angels? Shit, the only time I'll ever be able to wake up with two girls in my bed like Lou Will is if I take 6 blue pills with 2 full Styrofoam cups of whatever Lil' Wayne is sipping on these days. Worst case scenario I might go Demarcus Cousins out in public!

PS
TOLD YOU ALL CANADIANS HAVE FLAPPING HEADS.
Peace and love to Canada ❤️ 🇨🇦
Long story short: Drake is talking about Cash Money here and he feels they are doing him wrong. It's one long extended metaphor and if you hear the track with this in mind you should have a much better understanding. The picture below really sums up what I picture Drake looking like when he decided 

to write this song.
Thanks for RapGenius for all the information I put in those last three sentences and that picture.

With this track you can tell Drake has really matured. Not a single entire track devoted to exotic dancers in this production. Instead, "Company" has us listening to Drizzy tell us about longing for a girl that is on the same level as him. At this point in his career he's tired of the groupies and the one night stands (don't take my word on that). But, even though Drake starts off his verse by talking about the girl he needs, he always falls back into his old ways. Forgetting to text and just plain ignoring chicks. Always on his worst behavior (that's the second time I've said that, if you're counting). In case you were also keeping up, WATCH OUT FOR THAT BEAT CHANGE! Can't finish this without mentioning Travi$ Scott was great doing Travi$ Scott things on the album. Good feature.

I think I figured out the perfect way to describe this song. If you were to ask Drake to choose one song to present to his friends and family that describes who he is as a person, not as an artist, he would choose this song. At this point, we can count on at least one track in every Drake production that is going to discuss his relationship with his mom and other significant family members. To understand just how powerful this song is I want you to put yourself in the shoes of Drake's mom listening to this song. Now, if that wasn't enough, put yourself in his dad's shoes while listening to this song. It's a heart-wrenching tale of a kid who just wants to make his parents proud and feels like he can never do enough. Every time he forgets to call or text is magnified a million times in his mother's eyes. Let's be honest, that's the way it really is. After you finish reading this call your mom and tell her you love her, or your dad, or whoever you got these days.

If it wasn't enough that he's trying to mend the relationship between his parents, Drake never forgets to put on for his city. I mean, the song is called You & The 6. Let's leave you with one of the realest lines ever.
Remember, hip-hop isn't about the guns, drugs, money, girls, and getting fucked up in the clubs. Real hip-hop is about bringing people together from different backgrounds. We all united under the same cause so we can kick back and have fun together regardless of the color of your skin or where you grew up. If you can't realize that, you're either stupid or a plain hater. Now, call your mom.

I really don't have anything to say, great song. Watch the video after you finish reading this.
In case any one was wondering if Drake could rap he clears up all doubts on this last track. No one is safe, well if no one is Tyga. SORRY TYGA! (third time I've said that). Just check out the infographic on the next page courtesy of Noisey to understand what's really going on. Hope you enjoy the RapGenius comments.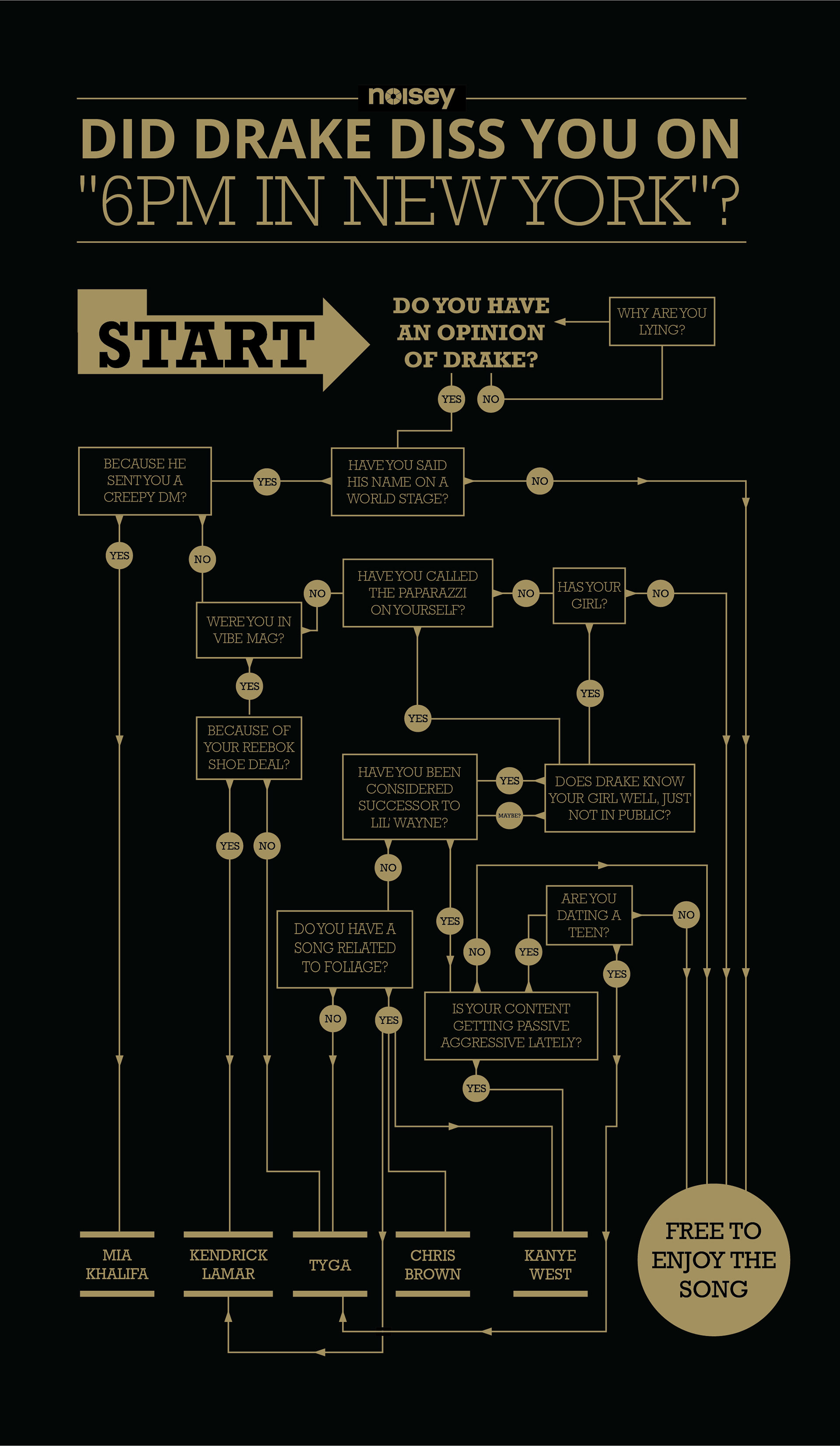 What have we learned throughout the mixtape, I mean album, I mean we gotta set this shit straight. It's too good for a mixtape, he didn't call it an album, it's definitely some sort of musical production. Got it. It's a Drake Production. We'll call it a DP. We can now refer to it as: when Drake dropped his DP If You're Reading This It's Too Late the rap game basically shit itself. I like it. He double penetrated the shit out of the industry and very few saw it coming. What should we take away from this DP?

After thinkng long and hard to come up with one of my very shitty metaphors that only I seem to understand I was able to come up with a new one. You know how Odell Beckham Jr and Lebron James are ridiculous athletes, but they're even more ridiculous during their pregame warmups? I mean, it's really easy when no one is guarding you to do shit like this:
What separates "athletes with potential" from truly gifted individuals who are going to become superstars is what happens after the warm ups. Sure, everyone knows you're crazy talented and you can kill it when no one is guarding you, but what about during game time? Can you still perform at an elite level? What I'm trying to say is that this album is basically like Drake showing off during the warm ups before the game. Everyone has spent the last whatever amount of months waiting for the highly anticipated Views From The 6. But, if you got to the stadium early you got to see everything else these stars could do.

In this case, while everyone was busy watching NBA All-Stars or looking at Kanye's ugly boots, with Views From The 6 being one of the last things on their mind, Drake stormed on the scene and made a couple of ridiculous ​​​​​​​one handed​​​​​​​ catches and between the legs dunks. If this is any indication, Drizzy is ready, and he's coming. If this is what Drake has shown us during warm ups, I'm ready for the big show. I can't wait to see what happens. Until then, I'll sit back and enjoy some amazing catches when no one is defending, but I'm really just waiting for this to happen: